General characteristic: machined from full material.

1. On-Off Valves: for manual or pneumatic operation


Special versions with metallic bellows seal:
Aseptic version with steam barrier
Safety valves
Bottom valves
High pressure valves up to 150 bar
Twin stop valves
Nominal sizes from DN15 to DN100, nominal pressure 10 bar

Application: opening/closing resp. directing of product streams. Both for thin and thick products demanding increased or highest cleanliness and cleanability of plant components. Preferrably used in dairies, food and beverage processing and pharmaceutical production.


2. Mixproof-Valves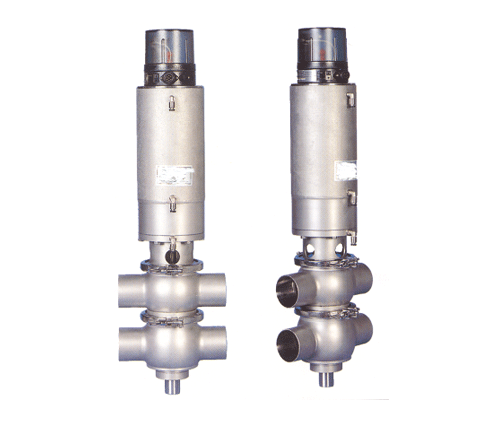 Description: hygienic valve composed of two shutters, that can be activated independently or in common .
Advantage: internal leakage between two product lines is trapped in the chamber between the shutters and drained-off via a bore hole, before it can contaminate the pure product stream.

Application: for alternate cleaning of two or more pipe lines by CIP/SIP method, while product is flowing in the neighbouring pipe line.


3. Butterfly Valves/Ball Valves

Operated manually or by a pneumatic rotating actuator. Butterfly valves can also be used as control device if equipped with 5 fixed angular positions as available for manual operation. Ball valves are available in 2-way or 3-way execution. Working pressures go up to 64 bar.